TITLE: Quis Decipio Ipsos Deceptors?.........Professor Rupert J. Felcher!
[Translation from Latin: Who will scam the scammers?]
Characters:
(Black Text): Mrs Maria Sara Akim [the Fraudulator]
(Blue Text): Professor Rupert J Felcher III [an Icelandic Explorer]
(Brown Text): Mr Duncan Wood [Chairman of Credit, Barclay's Bank]
(Green Text): Major Muff Diver [an associate of Professor Felcher]
(Orange Text): Inspector J. D. Felchingstraw [Canadian Mounted Police]
Red Text: Additional commentary
The following stock standard 419 scam letter lands in my catcher account:
From: [email protected]
Date: 30/01/06
Dear Sir/Ma,
This is where my investment plans stays on: [?]
I am Mrs Maria Akin from Philipine. I am married to Mr.Mohamed Akin from Philipine and we lived in UK for nine years before he died in the year 2002. We were married for eleven years without a child. He died after a briefillness that lasted for only four days.Before his death we were both born again Christian. Since his death I decided not to re-marry or get a child outside my matrimonial home which the Bible is against. When my late husband was alive he deposited ( Fifteen Million US Dollars) presently this money is still in the custody of one of the Banks here in Europe .
Recently, my Doctor told me to stop doing anything because of my health due to the cancer problem. Having known my condition I decided to look for a foreign investor that will utilize this money the way I am going to instruct
herein,as my late husband has already made the deposit to a foreign associate,fully indicated before the Bank.
However,I want a Trust worthy,reliable and God fearing Man or Woman that will assist me receive this fund as indicated in the agreement between my late husband and the bank. I am ready to give you 25% for your assistant and 75% for my investment in Oil business and welfare.
And you will be the one to help me invest my share in any profitable business of your choice in your country.
Furthermore,I don't need any telephone communication [Glad to hear it] in this regard becauseof my health and i reside in a Widows and Orphanage home for now.
In acceptance the following information stated below are required:
1)Your full name and address.
2)Your marrital status
3)Your occupation/Profession
4)Your direct telephone/Fax numbers
5)Your passport details for legal operations.
As soon as I receive your reply I shall give you the contact of the Bank, i will also issue you an authority letter that will prove you the present beneficiary of this fund as the next of kin to the depositor, Please assure me that you will act accordingly as I Stated herein.
Hoping to receive your response immedaitely.
I remain yours sincerely.
Mrs Maria Akin.
[A cancer-suffering widow looking to invest in oil. Can't spell her own name properly either. Tragic. And so Professor Rupert J. Felcher the Third, always a soft touch, offers to help out……….]
From: [email protected]
Date: 02/02/06
Associate Professor Rupert J Felcher III
Arctic Skunk Exploration Enterprises Ltd
Reykjavik, Iceland
Dear Mrs Akim,
An interesting proposition I must say. I may be able to assist you, however, before proceeding I will be needing assurance that everything is strictly kosher. I'm sure you will agree that the internet is used to perpetrate all manner of fraudulent modalities, and being a small businessman I need to be careful. I have to admit your proposal is tempting, I'm always interested in meeting new friends and particularly in alternative sources of income to help finance my exploration activities.
However, I must point out it was you who contacted me therefore I must insist on some identification before we can proceed. Where exactly are you located? Somewhere in Europe is it? Please specify exact address. I will also require a large, clear scanned image of your passport as a show of integrity on your part. Please do not send small, blurred or faked images. You already have my name and address at the top of this e-mail, and I will supply further details after I receive the requested information.
Regards
Ass. Prof. R.J. Felcher III
From: [email protected]
Date: 04/02/06
HELLO PROF. [Ahh…... She's got the CAPS-LOCK-SYNDROME already]
I GOT YOUR REPLY MESSAGE AND ALL THE CONTENT ARE WELL UNDERSTOOD.I THINK I LIKE THE WAY YOU EXPRESS YOUR FEELINGS TOWARD THESE TRANSACTION. SINCERELY I CONTACTED YOU FOR REAL BECAUSE THE BANK WHERE THE FUND IS DEPOSITED AND CODED UNTIL I RECOMAND A FOREIGN BENEFICIARY THAT WILL STAND FOR CLAIM, NOW THAT I HAVE SEEN YOU I HOPE YOU WILL SEE EVERYTHING CLEAR.
I STAYS IN COFLIN HOUSE IN MANDRID SPAIN [Don't think so me lad: an IP trace says you're in an internet café somewhere in Lagos, Nigeria] UNDER THE CARE OF GODON PENTICOSTAL ORGANISATION, THESE ORGANISATION MENEGE THE WIDOW AND ORPHANEGE HOME AS WE ARE HERE NOW.I DECIDED TO JOIN THEN THEIR PENDING WHEN I WILL GET A RELAIBLE PERSON THAT WILL HELP ME OUT GET THESE FUND FROM WHERE IT IS NOW.
I WILL SEND YOU MY PASSPORT IDENTITY FOR YOUR CLEAR IDENTIFICATIONS.YOU SHOULD MY DEAR ASSURE ME TO SECURE THESE FUND AS SAOON AS I FORWARDED ALL THE CONCERN DETAILS INVOLVE TO PURSE THE CLAIM. YOU HAVE NOTHING TO WORRY ABOUT PROVIDED I INTRODUCE YOU TO THE BANK FOR THESE .
MEANWHILE I SHALL LIKE TO HEAR MORE ABOUT YOUR COUNTRY
THANKS
MARIA
From: [email protected]
Date: 06/02/06
Associate Professor Rupert J Felcher III
Arctic Skunk Exploration Enterprises Ltd
Reykjavik, Iceland
Dear Maria,

You can rest assured that as soon as I receive the scanned passport image I requested we will be ready to proceed. This is merely a formality, and anyone hoping to conduct business via the internet would expect no less.

I am in the exploration business, based here in Reykjavik, the capital of Iceland. However, being an explorer my occupation takes me to all parts of the country.

I escaped from Serbia over ten years ago as a political refugee during the civil war, and went to Canada, and when the Canadians wanted to deport me as a suspected war criminal, Iceland was the only country that would accept me and give me a passport. I have done quite well since settling in Iceland and have become a respected member of the business and scientific communities.

I am sending an attached picture of me on one of my expeditions in the north of Iceland. The black and white animal you will see in the picture is an Arctic skunk. The Arctic skunk is found only in Iceland and is a cultural icon here, and as you can see my business is named after it. I'm always finding them when I go out into the more remote parts of the country. You can see what the country is like in the picture, there's ice everywhere, I guess that's why it's called Iceland.

Anyway, hope you like the picture and I will be waiting for your response.

Regards,

Ass. Prof. RJ Felcher III

[Well, no passport yet; looks like I'll have to get things started. I sent her the following picture. Yes it's Rolling Stone Keith Richards, chopped and slopped onto an Icelandic landscape (or should that be ice-scape?). As you've probably guessed, there's no such thing as an Arctic skunk. The animal in the picture is a Tasmanian devil; not even distantly related to skunks. All the parts of the picture were just random Google image search hits, doctored in Photoshop.]
From: [email protected]
Date: 07/02/06
HELLO MY DEAR PROF
I GOT YOUR MAIL AND YOUR PICTURE AS WELL, YOUR PICS IS FINE, AND I CAN SEE YOU HAVE GONE SO WIDE ROUND THE WORLD [well Keith certainly has] I SO MUCH LIKE TO DEAL WITH MEN OF GLOBAL EXPIRENCE, THAT IS MY HUSBAND FOR ME, WE LIFT PHILIPPINES AND BE MOVING ROUND FOR BETTERMENT BUT UNFORCTUNATLY THE DEATH HAVE DONE HIS WORST TO HIM. YOU CAN SEE THE MY PASSPORT ID,
CHEERS
MARIA
[The passport arrives. Check out the date of birth and the photo. The ladette's in remarkably good shape for a 50 year old don't you think? Incidently, this exact same passport appears on the 419.bittenus.com website so it's obviously been doing the rounds.]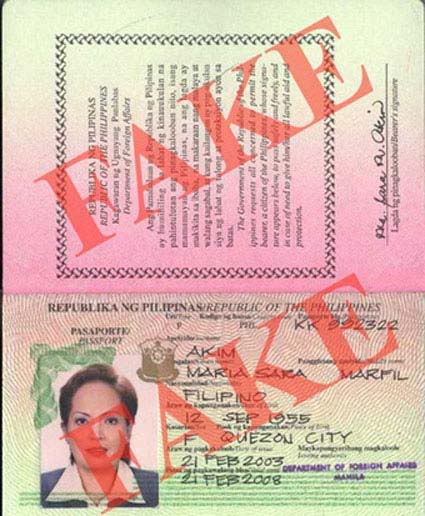 [And then later the same day I get another message from Maria with two dodgy documents attached – I guess she was assuming I'd accept the passport image. We'll let it slide for now.]
From: [email protected]
Date: 07/02/06
DEAR PROFSEE THE DOCUMENTS INVOLVE, YOU HAVE TO READ THE DOPSIT AGREEMENT VERY WELL TO UNDERSTAND THE NATURE OF THE DOPSIT AND THE CODE TO DECODE FOR CLAIM. WILL FORWARD WHOM TO CONTACT AS SOON AS I HEAR FROM THE BANK ON MY APPLICATION
MARIA
[Check out these two pieces of shite. Both images were massive when sent (76cm x 56cm) so I've downsized them here. Whoever the scanner operator for these imbeciles is they obviously haven't got much idea what they're doing; I've seen scans that were almost a metre and a half wide, and others the size of postage stamps. Their document fakery skills in general leave a lot to be desired too; I mean check out some of the fonts and embellishments they use on supposedly official documents for God's sake! Love the frame round the first one! Straight out of MS-Office CrapArt.]
From: [email protected]
Date: 08/02/06
Associate Professor Rupert J Felcher III
Arctic Skunk Exploration Enterprises Ltd
Reykjavik, Iceland
Dear Maria,
I received the documents you sent, including the passport image. I'm pleased to say that I can now provide you with the following information.
Name: Rupert J. Felcher III
Marital status: Single
Occupation: Professional explorer & businessman
(An image of my passport is attached)
Please note that I only use e-mail for all business communications. This is because as an explorer I travel a lot in remote areas and rely totally on my wireless laptop computer to stay in touch.
My business philosophy can be summarised in three words: Secrecy, Speed & Security. I have now provided you with my personal details, however there is one further item I require before we can proceed to the next step.
It works like this: I would like you to send me a picture of yourself holding a sign. The sign must have written on it a password that I give you. In this way I know for sure that the person in the picture is you because no-one else would know the password.
The password I want you to use is 'I-FELCH-SKUNKS' (do not reveal this password to anyone)
Write the password on a large sign and then take a photograph of yourself holding the sign.
The photograph needs to be large and clear, and the password easily readable.
Send the photograph to me as an e-mail attachment.
We can proceed to the next stage of our business immediately I receive the password encoded picture. Please feel free to send me any other photographs of yourself as well - I would be interested to see them.
Regards
Ass. Prof. R.J. Felcher III
[This is the passport image I sent her. It's Keith Richards again, an old black & white grabbed from the net with a splash of colour added in Photoshop and pasted onto a photo of Bobby Fischer's Icelandic passport which is freely available on the web. The passport details were altered slightly to suit the bait - Fischer becomes Felcher etc.]
[She doesn't contact me for a couple of days and I'm starting to suspect I might have blown it with the demand for a photo. So I fire off a reminder with a cover story about being trapped in an ice cave with suspected communication difficulties, and a bit of a gold find thrown in for extra incentive. We'll see if she goes for it.]
From: [email protected]
Date: 10/02/06
Associate Professor Rupert J Felcher III
Arctic Skunk Exploration Enterprises Ltd
Reykjavik, Iceland
Dear Maria,
Did you get my last message with the passport attached? I tried sending it twice as my wireless connection crashed while trying to send it from inside an ice cave somewhere in the frozen wasteland. Please contact me again to verify your receipt and understanding of the message or advise me to send it again if necessary. Heading back to Reykjavik today; have to deposit some gold that I found in the field. Saw three arctic skunks on this expedition; yes I know what you're thinking, I can hardly believe it myself, it's most unusual to even see one.
Regards,
Ass. Prof. R.J. Felcher III
[Then lo and behold I get this:]
From: [email protected]
Date: 11/02/06
HELLO MY DEAR JAMES
I GOT THE PICTURE YOU SENT, AND I STLL WAITE FOR YOUR GO AHEAD OTHER, TODAY I HAVE WRITING TO THE BANK AND I AM WAITNG FOR THE APROVAL, I CAN SEE YOU ARE ALWAYS BUSY ,ARE YOU SURE YOU CAN HELP ME OUT ON THESE? THE MOMENT THEY BANK APPROVE MY APPLCATION ,I WILL NFORM YOU TO CONTACT THEM ON THEIR PROTICOL
AS I EARLY TOLD YOU THESE TRANSACTION DETERMAIN ON YOUR READYNESS TO FOLLOW THE PROCCEEDING.PLEASE TRY TO MAKE ME BELIEVE YOU AS I HAVE WRITTEN TO THE BANK ON YOUR BEHAF AS MY BENEFICIARY.
THANKS FOR YOUR PICS ,I CAN TRUST WITH THAT ALONE
CHEERS
MARIA
[Looks like she's still hooked, but there's a few worrying signs: she's writing in capitals AND bold type now, and asking for further reassurance. Notice she's also started calling me 'James'. I never told her what the 'J' in my name stood for so she must have got it from the passport, but why start using it when I don't use it myself? Also no sign of the picture I asked for. Think she needs some gentle persuasion but I'll have to be careful!]
From: [email protected]
Date: 12/02/06
Associate Professor Rupert J Felcher III
Arctic Skunk Exploration Enterprises
Reykjavik, Iceland
Dear Maria,
Received your last e-mail. There are some issues I must address. Firstly, I must insist that you not to refer to me as James. That is my middle name and I only ever use the initial J. Please consider it your honor and privilege to call me Felch, all my friends and associates do so as a mark of respect and affection. (Please note that 'Associate Professor' is an honorary title bestowed on me by the Faculty of Debauchery at Reykjavik University in recognition of my work).
Secondly, you seem to have some reservations regarding my integrity and the success of our partnership. To ease your mind, please read again the e-mail I sent with the passport attached. If you read this carefully you will understand that by requesting the picture and password I am attempting to strengthen the security of our arrangement.
I am sure everyone who communicates and conducts important business over the internet feels the same way. Technology moves at such a rapid rate that the security modalities have simply not yet caught up to the complexity of the business transactions being conducted over the internet. This is why I always insist on this security procedure, no matter who I am dealing with; it's simply good business practice.
If you could let me have the picture as specified in my previous e-mail then we will be ready to progress. Remember, do not repeat the password to anyone else. This is of vital importance, the security of the entire operation depends on it. (Note: As an added security measure I am keeping our communications entirely separate from my regular business.) If you require any further clarification do not hesitate to contact me.
As a gesture of good will I am sending you another recent picture of myself. It shows me in my office in Reykjavik with a cheque for 10,000 pounds that was sent to me by my good friend Sir Paul McCartney in order to finance my next field expedition.
Regards
Ass. Prof. R.J. Felcher III (Felch)
[I send the following picture: Keith Richards again, complete with Arctic Skunk logo and cheque.]
From: [email protected]
Date: 13/02/06
HELLO MY DEAR FELCH [Well at least she used the name I insisted on this time.]
AM SORRY FOR WHICH EVER WAY YOU MAY UNDERSTOOD ME IN MY WRITE UP, PLEASE BEAR IN MIND THAT I AM UNDER A CARETAKER WHERE WIDOWS AND OPHANS STAYS.
I LIKE THE IDEA OF SEND PICTURE FOR SEWCURITY WISE BUT I CAN TELL YOU I WILL DO THAT BUT NOT IMMEDIATE,THE AREA WE ARE STAYING HERE IS NOT ALL THAT BRIGHT ZONE [Yeah I can understand that. Notoriously badly lit those Spanish orphanages; especially the ones that provide high-speed internet for their residents while neglecting to pay the lighting bills.] PLEASE I SHOULD TAKE MY TIOME TO SEND YOU ANOTHER OF MY PICS.
I THINK MY DEAR WE ARE WAITING MUCH TIME TO PROCCEED, REMEMBER THAT ALL MY ENTIRE LIFE BASE ON THESE VERY FUND, AND I HAVE REACH THE BANK INSIDERS REGARDING THESE BUT I CAN NOT DO ANYTHING WITH INTRODUCING A BENEFICIARY, ARE YOU NOT READY YET TO ASSIST ME? I AM BECOMING SO WORRIED NOW BECAUSE AFTER MY APPLICATION TO BANK RECOMANDING YOU AS THE FOREIGN BENEFICIARY TO STAND FOR CLAIM IT SEEMS YOU ARE DRAWING BACK, PLEASE LET ME KNOE YOURSTAND, IF YOU ARE READY I WILL FORWARD THE BANK CONTACT DETAILS TO YOU
CHEERS
MARIA
[She's still sounding a little twitchy. And still no picture. So I give her some extra time to find a 'bright zone' while reminding her I still require the photo. Actually, I'm finding myself quite taken with that phrase 'Bright Zone'. I've even started using it in everyday life. These 419er scumbags can occasionally be an unintentional source of amusing expressions. Most of their emails just come out like a load of shit but I find there's the occasional gem in there.]
From: [email protected]
Date: 14/02/06
Associate Professor Rupert J Felcher III
Arctic Skunk Exploration Enterprises Ltd
Reykjavik, Iceland
Dear Maria,
I quite understand the situation. My last email was intended to reassure you as to the safety of our arrangement. Let me try again. My personal information and yours can easily be hijacked by thieving internet scum and cyberspace pirates at any time, that is why my own security and the security of the people I communicate with such as yourself is so important to me.
By all means send the bank details to me and I can look them over and get ready to contact them while I am waiting for the password picture.
How are you anyway, your health is improving I trust. How did you like the last picture I sent you?
When I'm on my next field trip, whenever that is, I'll try to get some more photos to send.
Waiting to hear from you.
Regards,
Felch
From: [email protected]
Date: 15/02/06
HELLO MY DEAR [What? No Felch this time? Looks like she doesn't know what to call me now.]
THANKS FOR YOUR MESSAGE AND UNDERSTANDING, I APPRECIATE THE PIC YOU SENT TO ME AND I LIKE YOUR SEASON OF RESONNING . [Season of Resonning?] I WILL GO NOW AND MEET THE BANK ADVICER TO GET THE REMMITANCE DIRECTOR CONTANT DETAILS, I WILL GET BACK TO YOU AS SOON AS POSSIBLE
CHEERS AND REMAIN BLESS
MARIA
[Not really what I want to hear. And where's that goddam picture? I won't even bother replying this time.]
From: [email protected]
Date: 16/02/06
HELLO MY DEAR
THESE IS THE CONTCT DETAILS I COLLECTED FROM MR DAVID THE BANK ADVICER WHO ADVICE ME ON HOW TO GET THESE FUND OUT.
HE SAID YOU SHOULD CONTACT THE OFFSHORE PAYMENT CENTRE FOR FAST PROCESS, MAIL HIM AND ASK HIM WHAT YOU WILL DO FOR THE FUND TO BE REMMITED IN YOUR ACCOUNT.

THE CONTACT INFORMATIONS:
MR DUNCAN WOOD/CHAIRMAN HEAD OF CREDIT
TELL: 44 207 0600452
FAX:44 207 0600428

I WISH YOU BEST OF LUCK, AND TRY AND GET BACK TO ME
MARIA
From: [email protected]
Date: 16/02/06
Ass. Prof. Rupert J Felcher III
Arctic Skunk Exploration Enterprises Ltd
Reykjavik, Iceland
Dear Maria,

Thanks for the e-mail. I have a few questions. You asked me to mail this Duncan Wood character, but you've only supplied fax and phone numbers - I have no idea of his mailing address or his business name. Please read your own message again to verify this.

In any case you must supply me with his contact e-mail address. I refer you to an earlier message from me where I indicated I only conduct international business via e-mail. Telephones and faxes are to risky from a security point of view, in fact I'm sure my own telephone is being tapped right at this moment by the Canadian Mounted Police who are still trying to fabricate evidence of my wartime activities in the Balkans. They weren't at all pleased when I escaped to Iceland. Anyway, as I pointed out before, e-mail is the only form of communication I have with me in the field. So please supply me with e-mail details in order to make rapid progress on this matter.

As a matter of interest, where exactly is this Mr Wood located, what country? [Just playing dumb here to frustrate her. "Mr Wood" is supposed to be in London at the address on the suspect deposit certificate she sent.]

I remind you again I am still waiting for the picture of you - this is most important for my own peace of mind and the security of all involved. We need to move ahead quickly here. Business is business after all, or as the Japanese say, business is war. Get back to me as soon as possible with the e-mail contact for Mr Wood and your picture.

Hope you are keeping well.

Regards,

Felch

[Well she's wasted over 2 weeks on me now; I've had some fun and she hasn't, so I guess that's a win for me so far. And we haven't even got to the part where she asks for any of my money yet.]

From: [email protected]

Date: 17/02/06

HELLO MY DEAR FELCH

THESE IS THE EMAIL ADRESS OF MR DUCAN WOOD PLEASE WRITE HIM AND TRY TO CALL HIM TO COMFIRM THE RECEIPT.AM STILL WORKING ON THE PICTURE YOU DEMANDED, BUT THESE SHOULD NOT BORDER YOU CONCENTRATE AND MAKE THE CLAIM.
THE EMAIL ADRESS.

YOU CAN SEND THE APPLICATION ON THE TWO EMAIL ADRESSES
THANKS

[Well I've got an email address, 2 in fact, for this Mr Wood ratbag. At least when he emails me back I'll be able to determine roughly where he is in the world and possibly whether he and she are one and the same. That f#@%ing picture's starting to resemble the holy grail; I just can't get my hands on it. (Patience required here). You can see what's going on though; either she's hoping to find a way out of sending it (chances = 0), or she's trying to buy some time to knock up a reasonable fake that looks something like the person on the passport. Of course our new player Woody the Banker (or wanker) is going to have to go through the picture / passport routine as well.

From: [email protected]

To: [email protected]

(Mr Duncan Wood)

Date: 18/02/06

Associate Professor Rupert J Felcher III

Arctic Skunk Exploration Enterprises Ltd

Reykjavik Iceland

Dear Mr Duncan Wood,

Please allow me to introduce myself, I'm a man of wealth and taste. [Couldn't resist that line....seemed to go with the Kieth Richards modality.]

I am Professor Rupert J Felcher the Third, of Arctic Skunk Exploration Enterprises based in Reykjavik, Iceland. I am contacting you as I represent Mrs Maria Akim in respect of a claim on a deposit made by her late husband. Please acknowledge your receipt of this email, introduce yourself, and let me know how the situation stands from your perspective. [And get your camera & scanner ready too old boy!]

Regards

R.J. Felcher III

[And I fire off a quick note to my ladette so she can see progress is being made.]

From: [email protected]

Date: 18/02/06

Ass. Prof. Rupert J Felcher III

Arctic Skunk Exploration Enterprises Ltd

Reykjavik, Iceland

Dear Maria,
I have contacted the bank to introduce myself. Expect to hear back from Mr Wood soon. I feel the process is now entering a critical phase and I must have confirmation of your commitment to loyalty and success by receipt of the picture I am still waiting for. I believe we have come a long way now and feel we are about to make some real progress. Please contact me soon.
Regards
Felch
From: [email protected]
Date: 19/02/06
HELLO MY DEAR FELCH
thanks so far for following up the directives, i believe the credit ubit will answqer you as soon as posible
let keep our hand cross and belive god, i will try my best to get the pic send to you ,only that the area i am is too remote, [Madrid is remote? Who's she trying to scam?] but nevertheless let see what will happen
thanks for your couragement
maria
From: [email protected]
Date: 20/02/06
hello dear
please reply me here when you hear from bank <[email protected]>
maria
[She's worked out how to turn the caps lock off, and she's got a new e-mail address and a new name as well (Sara?) Looks like her old account might have been closed down for scamming & spamming.]
[And then I get this from the bank. It's also coming from Lagos . No surprise there.]
From: [email protected]
(Duncan Wood
)
Date: 20/02/06
Sir,
Kindly forward to us your fax number as we would appreciate most having this transaction by fax.
[Don't think so Shitbags.]
Yours sincerely,
Duncan Wood
Chairman/Head of Credit,
Offshore Payment Centre,
England .
[And of course the ever-cautious Professor Felcher replies with.........]
From: [email protected]
To: [email protected]
(Duncan Wood
)
Date: 21/02/06
Associate Professor Rupert J Felcher III
Arctic Skunk Exploration Enterprises Ltd
Reykjavic, Iceland
Mr Wood,
Before we commence any business I will be needing to verify your identity. Being a high-profile businessman yourself you will understand that this is a routine modality in any transaction where large amounts of money are involved. My method of identification is that I give you a password, then you take a photograph of yourself holding a sign with the password written on it. Because only you and I know the password then I can be sure the person in the picture is you.
What I need you to do is print out the attached file 'password.jpg' Then take a photograph of yourself holding the paper with the password on it. The photograph must be large and clear, and the password easily readable.
As soon as I receive a suitable picture then we will be ready to commence business. I am sure experience has taught us both that these days all manner of scumbags and pirates can attempt to hijack our communications so the security measures I require should be well understood. Naturally, as a measure of my own integrity I am also sending you a picture of myself for your records (the file FrofRJFelchIII.jpg is attached.)
Regards
Ass. Prof. R.J. Felcher III
[Here's the pictures I attached:]
The password……..
And of course………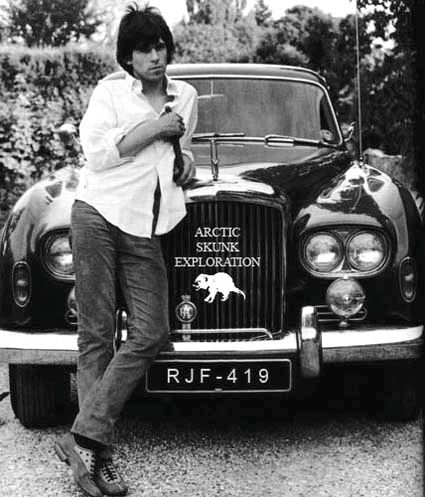 From: [email protected]
Date: 22/02/06
HELLO MR FELCH
WHAT IS THE POSITION OF THINGS NOW, I CAN NO HEAR FROM YOU ,HAVE YOU HEARD FROM THE BANK? UPDATE ME SIR
MARIA
[Mr Felch? Sir? The whole tone of her e-mails seems to have changed, almost as though they were being written by another person!!! Well at least they're starting to waste some serious time on this; we've been going for three weeks now and haven't really got anywhere. I guess it get's harder for them to drop it the more time they put into it.]
From: [email protected]
Date: 23/02/06
Associate Professor Rupert J Felcher III
Arctic Skunk Exploration Enterprises Ltd
Reykjavik Iceland

Dear Maria,
I have been in contact with the bank. They are asking for fax numbers and I have had to explain that I do not use fax because we don't actually have one here on account that most of my work takes place in field situations as you know. I have instructed them to deal with me exclusively via the email as we have been doing. I am expecting to hear further from this Mr Wood character shortly. At this point things are going smoothly, if a little slowly. As I've already indicated the security modalities are of major significance and we must proceed cautiously. Could I ask you to be honest here? What is your opinion? Do you think we can trust this Mr Wood? Get back to me on it.
By the way, still waiting for that picture; I can send you a password to print yourself if that would make it easier. [See what I mean about wasting time: I'm getting nothing from them and they're getting nothing from me. Who's going to crack first?]
Regards,
Felch
From: [email protected]
Date: 24/02/06
HELLO PROF.
MANY THANKS TO YOU FOR YOUR KIND GESTURE.
I AN TELL YOU EIRS NO OTHER WAY WE CAN GET THESE FUND WITHOUT MR WOOD INTRUCTIONS, HE IS THE OVERALL MN TO SIGN AND DIRECT THE RELEASE, PLEASE TRY AND ABIDE ON HIS INTRUCTIONS, I WILL WAITE TILL YOU CONCLUDE WITH HIM. MEANWHILE THESE IS THE PIC
MARIA
[And here's the picture! Yes that's the actual size too! Definitely not worth the wait was it! She's obviously searched the net for something that vaguely resembles the passport image, then paint-slopped the password onto it and tried to slip that past me. Not a chance. Totally unacceptable. Gives me an excuse to drag things out even more though, so all is not lost.]

From: [email protected]
Date: 25/02/06
Associate Professor Rupert J Felcher III
Arctic Skunk Exploration Enterprises Ltd
Reykjavik Iceland
Maria
What the hell is happening? I have not heard from Mr Woody for several days. Are you sure he is to be trusted? I am beginning to suspect he may have used the information I sent him to impersonate me and steal your money. Have you been in touch with him recently? Is he really in London ? Perhaps it would be best if I met him in person. Contact me and let me know what's going on.
Regards
Felch
[Notice how I have caused Mr Wood the banker to experience a subtle name change. Then in her next reply she's accepted the change and is calling him Mr Woody too! And he's not happy with us either!]
From: [email protected]
Date: 26/02/06
Dear Professor Felcher,
How are you today? Thanks for your email message and it content was well noted. I got intouch with the bank and they informed me that my husband's fund was among the fund moved out of the bank by the Bank diplomat on delivery in a silled and coded box, as this their means of transfering funds to old deposited acoount holders, due to insufficient fund.
They informed me that the fund is been silled and coded, that the diplomat cant have access to it, and the pincode will be released to the receiver, when he meets the Diplomat.
Presently, they said the diplomat is on transit and the bank protocol officer told me that he doesnt know the diplomat's present status, that he will find out so that you can meet the diplomat for receiving, and that they have access and conection with custom officers everywhere they deliver to and that this is legal and 100% risk free.
I have tought about it and i want to know your opinion since its safe.Moreover, Mr woody seems not to be happy with us. [I wonder why.]
Thanks and waiting.
MARIA
From: [email protected]
Date: 27/02/06
Associate Professor Rupert J Felcher III
Arctic Skunk Exploration Enterprises
Reykjavik, Iceland
Dear Maria,
I have a few concerns. It sounds like a lot of people know about the money now. Are you sure they are not making plans to steal it? Mr Woody refuses to contact me, and I don't know anything about this diplomat or any customs officers. Suppose this diplomat ends up in some place like Brazil with the money, then he and the customs people share the money and disappear? I think we should be asking them for more secure personal details so we know how to locate them if anything suspicious happens. Can you see now why I always ask for password encoded pictures when dealing with people in foreign countries? Get back to me quickly on this.
Regards,
Felch
From: [email protected]
Date: 28/02/06
Dear Professor Felcher,
Thanks for your concern.
It doesnt mean that a lot of people knows about the money now. Am a very carefull person and its only the Bank protocol officer who gave me the latest information about it since Mr Woody is annoied because of security password and stated that you dont trust him and ask him for a password, and that he his not interested in our transaction. But thats him, God is with us and i know that we will overcome. [That's interesting. She's fully accepted Woody's name change, but the elusive Mr Woody seems to have been superfluous to the whole deal. He's pissed off with me, she's given him the flick, but the money's on its way anyway.]
Know one will steal the money or cheat on us. The Bank is a secured Bank and such thing cant happen. secondly the DIPLOMAT is trained to deliver confidential packages for Banks and Security company such as raw gold and treasures, and funds.
Thirdly the pincode that the bank used in securing the box, is not with him and he doesnt have the right to open it or hold it with him more than the day agreed on delivery.
As you know every country has customs officer who will check on importation into the country, so the diplomat knows how he will transact with them,as long as he has his identity has a diplomat.
According to the information i heard from the Protocol officer this morning, he said the diplomat will be arriving Spain in the next two days after departing from Malaysia, where he has gone for other delivery. So you have to prepare to meet him in Spain for the receiving of the consignment.
The security details we will use to locate him his the Airwaybill from the Bank in UK , its a document that will explain the weight of the consignment, the name of the appointed diplomat, the destination of delivery and the receivers name.
He the protocol officer said, as soon as you confirm to him that you will meet the diplomat in spain in the next two days a convenient day for you so as to secure your entry permit to spain . He will send the Airwaybill document to you, because without the airwaybill document, the diplomat wont even attend to you.
Professor, to this regard, i think you have to let me know the day you will be able to meet the diplomat in Spain. Do your country have free entry permit in spain ?
Just let me know when you will be able to do this, and make sure we dont reveal this secrete to know one, so as to be in a safe hand.
Thanks and waiting.
MARIA
From: [email protected]
Date: 01/03/06
Ass. Prof. Rupert J Felcher III
Arctic Skunk Exploration
Reykjavik Iceland

Dear Maria,
The trouble with people like Mr Woody is that they demand personal information and then act offended when you ask them for proof of identity. Do these people think I'm insane that I would release my personal details to some dirtbag in another country with no security check! I am a businessman and I'd never get anywhere if I conducted business like that. I have to tell you Maria that we are better off without Mr Woody, I never did trust him.
Anyway, please send me the document you referred to in your last email and I will see what I can do. I'm a little concerned that things are not progressing as quickly as they should be. By the way, what do we know about this diplomat? Have you met him? What's his name? Get back to me as soon as you can about the airwaybill document.
Regards,
Felch
From: [email protected]
Date: 02/03/06
Dear Professor Felcher,
Mr Woody is out of this transaction, take note. [Very reassuring.]
And i havent find out the name of the diplomat. So that shouldnt be a problem.
I asked you how easy it will be for you to get to spain to meet him, that should be the content of your email. So as to fasten up the transaction.
I have note met him before, what we have to do is to wait to hear from him, about his arrival in spain tomorrow according to the Protocol officer of the bank.
I will collerct the airwaybill document and send to you as soon as you confirm your entry into spain .
Maria
[That sounds a touch aggressive, telling me what should be in my emails. I'm calling the shots here. Time to knock her off balance again with another load of horseshit.]
From: [email protected]
Date: 03/03/06
Ass. Prof. Rupert J Felcher III
Arctic Skunk Exploration
Reykjavik, Iceland

Dear Maria,
There have been some disturbing developments. I arranged a flight to Spain but it appears my booking details were intercepted by the Canadian Mounted Police. My old enemy Inspector Felchingstraw has sent me a threatening letter, saying I will be arrested if I try to leave the country. Can you believe it?
I have attached a copy of the letter he sent so you can see what kind of nonsense I have to put up with. As I told you once before his claims are a complete crock of shit. I am a well respected man here in Iceland and in other parts of the world.
Does he think I am an idiot? I am always one step ahead of him. Do not worry, I will not be flying from Iceland. I have a better idea. I have arranged for the aquatic division of Arctic Skunk Enterprises to provide me with a submarine. I will travel to Scotland by submarine then get a flight from there to Spain. (I told them I would be using the submarine to look for the Loch Ness Monster.) So everything should be strictly sensational. Just send me the document and I should be in Spain within ten days.
Regards,
Felch
[And this is the letter I attached]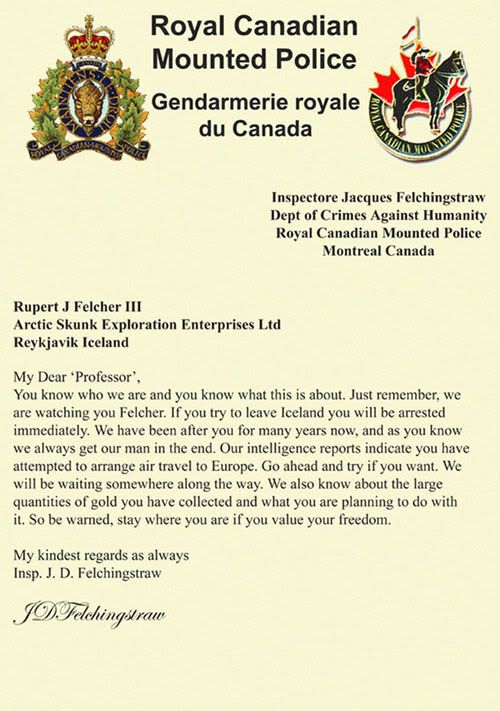 From: [email protected]
Date: 04/03/06
Dear Professor Felcher,
Thanks for the information and i pray we will overcome.
Atached is a copy of the Bank Airwaybill Document. So please go through it, and always update me about your arrival in spain .
You know this money is my hope and all i have got, so please endeavour to do your best.
Thanks.
MARIA
[Well, she's still in touch so it looks like she swallowed that rubbish about the mounted police and the submarine. I really thought that might have been going a bit far. See the 5000 pound charge on the fake document – the first time there's been any hint at me parting with any cash. Really convincing too, that document, check out the spelling mistakes!]
From: [email protected]
Date: 05/03/06
Ass. Prof. Rupert J Felcher III
Arctic Skunk Exploration Enterprises Ltd
Reykjavik, Iceland

Dear Maria,
Received your message and am making plans to board the submarine for Scotland. There is one further piece of documentation I require. I notice from the airwaybill that I am expected to pay the 5000 pounds charge on receipt of the delivery. The only way I can justify this is if I claim the 5000 pounds as a tax expense through my business. That way I cover myself if any questions are asked at this end about what the money is for, and later I will be able to recover the 5000 as a research expense through the tax system here in Iceland.
Please print and fill out the attached application form I am sending to you. Just write on it that you intend to explore for gold in South Africa or something like that. It's just so I've got something to show the tax people when I claim a refund as a business expense. This way I can't lose whatever happens.
Complete the form then scan it and send it back to me as soon as possible. If you have any questions do not hesitate to ask.
As soon as I have the form for my tax records I will be ready to leave for the submarine base.
Regards,
Felch
[And here's the application form I sent her]
From: [email protected]
Date: 06/03/06
Dear Professor Felcher,
Thanks for the update and mutual understanding.
I have filled the form and as well attach it and a copy of my photograph.
I received a message from the Bank protocol officer that the Diplomat is now in Spain and waiting for you, but complains that he needs your number to talk to you on phone so you can assure him of when you will arrive so as not to delay him because the more days the box stays in the Security company where he keeps it for security, the higher the demorage.
Professor, at this stage, i belive you should be able to release your phone number to me so i give to him so as for the both of you to talk in person.
But if you insist, then let me know your final schedule to Spain, as you know you will definately need a phone when you arrive spain for fast and easy communication.
Waiting for your response.
MARIA
[Here's the completed application. Very imaginative form-filling there from the lad. Scanning technique mondo disgusto as usual; almost makes me feel sick trying to read it. Wonder if her currency conversion is up to scratch? She fancies her chances of finding gold too. Somehow I don't.]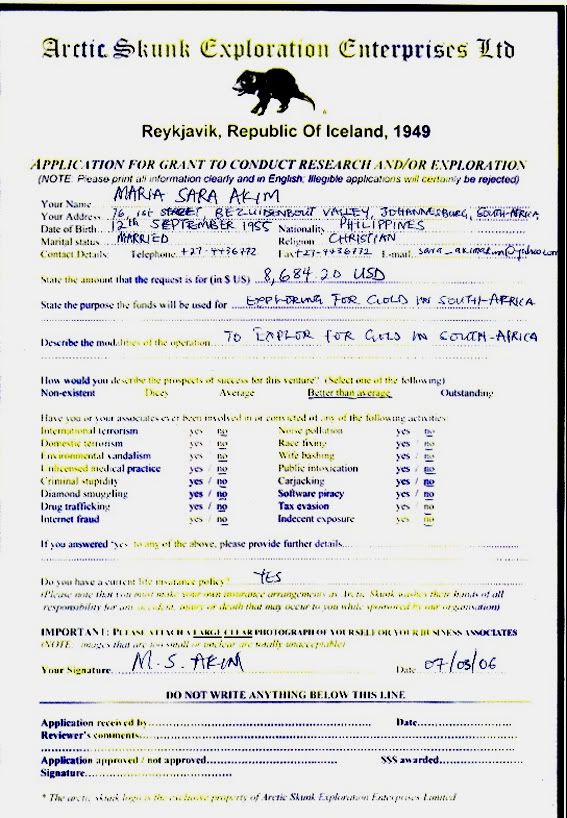 [And what about this for the picture? It's just a digital enlargement of the fake passport photo. Total crapola.]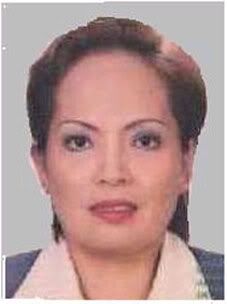 [As you can see, she's demanding a telephone number after all the times I've told her I don't use phones. Time to throw her another curve ball I think. Time for Professor Felcher to exit this life under mysterious circumstances. So I let her sweat for a couple of days and then contact her as one of Rupert J Felcher's work colleagues. Enter Major Muff Diver, Professor Felcher's long time friend and business partner.]

From: [email protected]
To: [email protected]
Date: 08/03/06
Major Muff Diver
Marine Research Division
Arctic Skunk Exploration Enterprises Ltd
Reykjavik, Iceland
Dear Mrs Akim,
My name is Major Muff Diver, and I am a friend and business partner of Professor Rupert Felcher. I do not quite know where to start, but I must inform you of some terrible news. My dear friend Rupert Felcher has been killed in a tragic accident. I have attached a picture of myself and the professor so you can see how close we were. I have also attached an article from this morning's newspaper describing the tragedy, and also a photograph that I myself captured at the scene. This is really all the details we have at present.
You may be aware that he took a submarine from our aquatic research base here in Iceland, and that was the last we saw of him. The police have recovered most of his personal effects. Your name and email address were amongst the items recovered, however the police have closed down the email account he was using and confiscated the information it contained. I gather he wished to keep his communication with you secret. I have had to take charge of all his affairs including his email correspondence.
If you wish further information you should contact me on this address, however it may be several days before we have the complete picture of what happened. I have asked the police on many occasions to provide me with more detail on the Professor's disappearance but I CAN'T GET NO SATISFACTION. You must understand I am extremely disturbed by this event, and very busy at the same time, so I will have to leave it at that for now.
Major Muff Diver
[The picture I sent her of the Major and the Professor in happier times. Look like close friends don't they.]

[and the newspaper report……]
[and Major Muff Diver's photograph……..]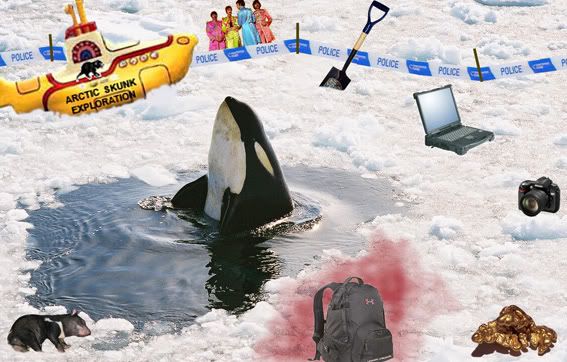 [Yeah, I know…..That last picture's probably overkill, but I had the feeling that the bait had just about run its course anyway. I'd still like to see her face when she opens the attachments. And while she's still trying to cope with all that, I send her another mail from a different account, this time from the cops.]

From: [email protected]
To: [email protected]
Date: 08/03/06
[A cop with a hotmail address. Will she be that dumb…..?]
Inspectore Jacques D. Felchingstraw
Department of Crimes Against Humanity
Royal Canadian Mounted Police
Montreal Canada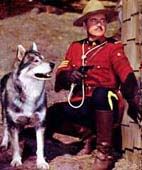 Mrs Akim
This may well come as a shock to you. Your name has surfaced as part of an investigation we are conducting into the business activities and disappearance of one Rupert J Felcher. We are in possession of Felcher's computer and therein we discovered many communications with you.
We have been after Felcher for many years. His list of crimes is extensive. He's not even a real professor. He was a terrorist in the Balkan States over 10 years ago, he entered Canada illegally on a fake passport, he tried to steal my identity, he has rorted the tax system in Iceland, he has ripped off unsuspecting victims with his internet scams, and he is an international gold and diamond smuggler.
How he has managed to fool the rest of the world for so long beats the hell out of me. They're even having a state-funded memorial service for him in Iceland. Between you and me, Felcher has gotten off very lightly. If I had of got my hands on him it would have made whatever happened to him up there in the Arctic Ocean look like a minor accident. Make no mistake, Rupert J Felcher was a fraudulator of the highest degree, and I will not stop until I have tracked down and brought to justice all of his accomplices.
If you are innocent of any criminal involvement you have nothing to worry about. But be warned, if you have done anything illegal we will add you to our hit list. If you wish to contact me with your own explanation of your dealings with Felcher, please do so. It will be much easier for you if you co-operate with us. I have attached my picture so you can see for yourself that I am not someone you want to mess with.
J. D. Felchingstraw
Inspectore, R.C.M.P.
[Inspector J.D. Felching-Straw, R.C.M.P.]

[Now that's a felching straw!]

[Unbelievably, three days later she actually replies to Major Muff Diver. She ignores Inspector Felchingstraw however.]
From: [email protected]
To: [email protected]
Date: 11/03/06
SIR MUFF [Sir Muff? I know Jagger's been knighted but……..]
I HAVE HEARD ALL YOU SAID. ITS VERY PAINFULL INDEED. SEND ME YOUR PHONE NUMBER TO DISCUSS WITH YOU.
MARIA AKIM
[Major Muff Diver replies, but ignores the request for a phone number of course.]
From: [email protected]
To: [email protected]
Date: 11/03/06
Major Muff Diver
Marine Research Division
Arctic Skunk Exploration Enterprises Ltd
Reykjavik, Iceland
Dear Mrs Akim,
Please excuse the lateness of my reply. As I'm sure you can understand, these are very difficult circumstances for us here. I've had to send hundreds of emails over the past few days. My great friend Felch was certainly a prolific correspondent. I never realised how many friends and business contacts he had. The police are being very difficult too. That Inspector Felchingstraw from Canada is really trying my patience. He's torn our Reykjavik office to pieces looking for non-existent evidence, he's made some really unbelievable accusations, and he's besmirched the good reputation of Professor Felcher. I'll never forgive him for this. When I told him what I thought of him he just laughed and belted me over the head with a piece of lead pipe! I had to spend half a day in hospital and I've got 20 stitches in my head. I have attached a picture so you can see what he's done to me. Absolutely disgraceful isn't it?
Anyway, tell me, what exactly was the nature of your business with Felch? I will try to assist you if I can.
Major Muff Diver.
[The picture of Major Muff Diver after a belting from Inspector Felchingstraw........]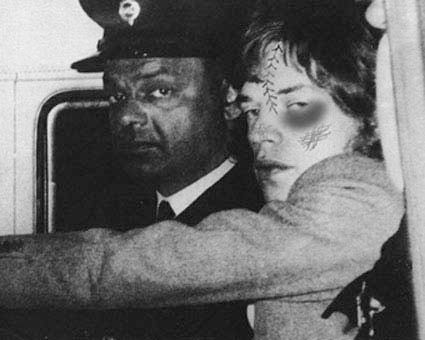 [Major Muff Diver is concerned that Maria may not contact him again, so he offers a little cash incentive…….]
From: [email protected]
To: [email protected]
Date: 13/03/06
Major Muff Diver
Marine Research Division
Arctic Skunk Exploration Enterprises Ltd
Reykjavik, Iceland
Dear Mrs Akim,
My injuries seem to be healing rather well. The authorities have just returned some of Professor Felcher's personal effects to me. Among these items I have found a research grant application completed by you, and a cheque for 5000 pounds. I have attached an image of the cheque. Am I to understand that you applied for a research grant through Arctic Skunk Enterprises and were to be sponsored to the tune of 5000 pounds? Please verify if this information is correct so that I can forward the cheque to you. I'm afraid I was not aware of the Professor's research activities in South Africa prior to his untimely demise, so you will have to bear with me for the moment. Please note that all research grants must be activated within 14 days of being approved. Oh, and by the way, is there any chance you could make it to Reykjavik for the memorial service? If so I can provide details.
Awaiting your response.
Major Muff Diver
[The phoney cheque…...]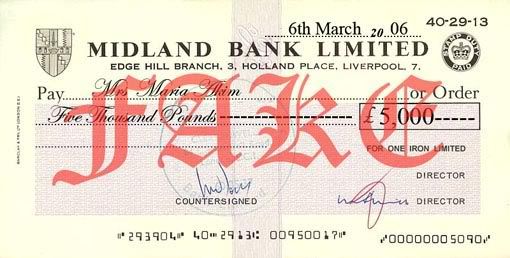 Time passes. She's not biting. Looks like this bait's over. Major Muff Diver is shattered. But possibly not as shattered as our scammer, Mrs Maria Akim. She invested six weeks in this exchange, and then experienced the pain of having it all come to nothing as the cash slipped from her grasp, and the corrosive self-doubt of being an incompetent scamster. Of course, we don't know for sure that Professor Felcher actually died in the Arctic Ocean. They never recovered any trace of him, now did they? It's always possible he may re-surface at some indeterminate point in the future to make life miserable for another 419 scammer. We can only hope.......................